Lower back pain explained
Twenty percent of musculoskeletal consultations are related to the back – most of which are related to lower back pain (i.e. low back pain or lumbar pain). The most common classification of lumbar pain is non-specific low back pain (NSLBP).
In NSLBP, the lower back muscles surrounding the spine can be thrown into an uncomfortable defensive over-activity, known as "bracing" which can make the spine more vulnerable to injury. By training the muscles around the spine to transfer the pressure away from the affected area, it may be possible to safely undo the "bracing" response associated with chronic injuries and, in turn, relieve the pain that caused the bracing in the first place.
Interestingly, studies have found that being appropriately active can be far more beneficial than the historical prescription of bed rest.
Apos® and lower back pain
Apos® is designed to help you live better by working with the body's natural biomechanics.
The non-invasive Apos® device is used for about one hour a day, and works around your schedule – you can wear it at home, at work or outside. Specially customized for each patient, it is designed to redistribute the weight with minimal effort on your part.
Apos® is FDA-cleared for treating knee osteoarthritis and can be for general wellness to support conditions of the hips and lower back.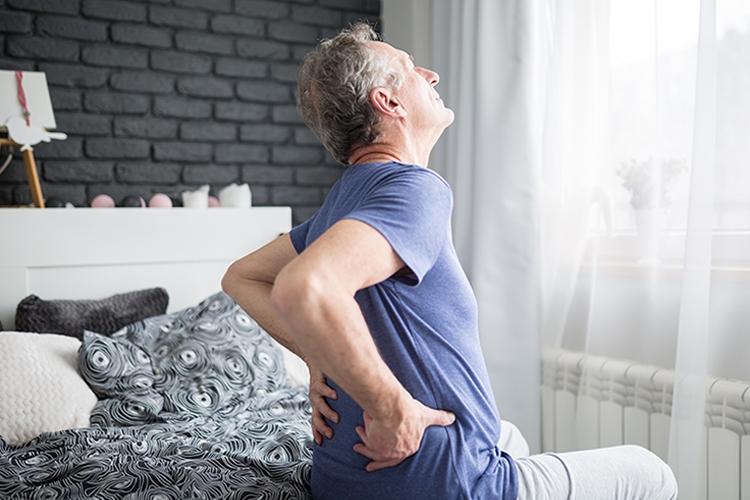 Clinical research about Apos®
Non-invasive
Ongoing care to optimize results
Fits into your daily routine
Personalized to your body frame and movement patterns
Non-specific low back pain (NSLBP) is a condition that can be influenced by a number of pathologies including:
Sacroiliac joint pain (si joint pain)
Lumbar radiculopathy (sciatica)
Lumbar spinal stenosis
Herniated disk
Ruptured disc
Slipped disc
Degenerative disc disease
Non-specific low back pain is the most common classification of low back/lumbar pain. This is the type of lumbar pain that most people will have at some point in their lives – a sudden, acute, debilitating spasm. It's called "non-specific" because no single problem or disease can be identified as the source and it often stems from a combination of factors.
The all-too-familiar symptoms of non-specific low back pain—sharp pain, stiffness and difficulty moving—usually decrease in a matter of days, enabling a return to normal activity. However, when the symptoms last for more than three months, the condition is considered chronic.
Non-specific low back pain is defined as pain of the lower back that cannot be attributed to a specific pathology. Hence the name, "non-specific." Therefore, non-specific low back pain can be addressed by reducing the pain it causes and/or improving the patient's function.
Generally, Apos® is not suitable for individuals who:
Have unexplained recurrent falls
Experience balance problems (that require using a walking aid indoors)
Suffer from especially severe osteoporosis
Otherwise, you are likely to be a good candidate for Apos®.
Get back to what you love to do
Schedule a call with our customer care professionals.
Find an Apos® provider near you.